Our Premium All Inclusive - * Your holiday without additional costs
With your decision to use our premium all inclusive offer, you have made exactly the right choice.
Time of hospitality

07:30 - 10:00 am Rich breakfast buffet
12:00 - 13:00 Lunch snack with soup
15:30 - 16:30 o'clock cake buffet in the afternoon
6 pm - 8 pm Dinner from the theme buffet: salad buffet, soup, hot dishes to choose from, dessert buffet
Culinary for the day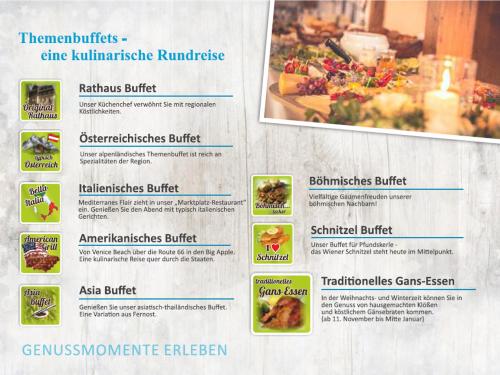 Let yourself be pampered by our kitchen team daily with a variety of delicacies.
Our houses are members of Slow Food movement. All dishes are freshly prepared for you in our kitchen and brought to the buffet fresh from the oven. Our regional suppliers provide our hotels daily with fresh bread rolls, bread specially created for our hotel, honey from the apiary, fresh homemade jams and tasty liver sausage from the butcher.

Enjoy the varied culinary delights of our kitchen!
Beverage specialties of the house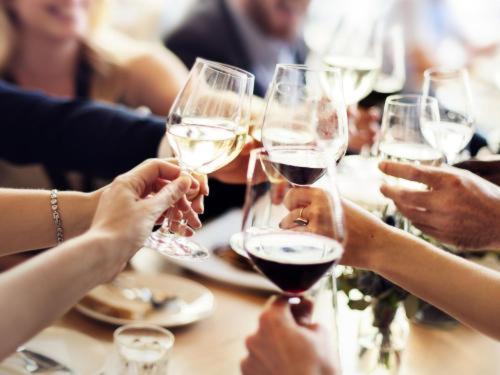 In our Sky-Café bar of the Rathaushotel, our Premium All Inclusive guests can choose from a variety of soft drinks, coffee specialties and alcoholic beverages free of charge from 10:00 am to 11:00 pm.

Our bar offers free soft drinks and juices, red, white and rosé country wine, pilsner and barrel wheat, gin, rum, vodka, whiskey and brandy, as well as coffee, espresso, cappuccino and latte macchiato.

No Premium All Inclusive booked yet? No problem write us a short email to empfang@rathaushotels.de or use our form.
Book before arrival and save!
Per person and day we charge for the Premium All Inclusive services
instead of 27 euros on site only 19 euros online.
* plus visitor's tax and parking fees