Fichtelberg & Keilberg
Fichtelberg 1.215 m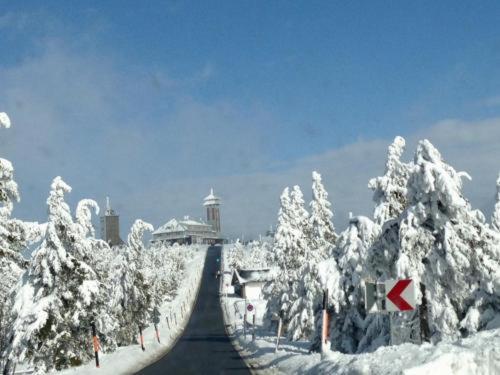 The Fichtelberg belongs to the most important winter sports center of the Erzgebirge. Only 1.5 km away is the state border with the Czech Republic. South of the foot of the Fichtelberg lies Oberwiesenthal, the highest city in Germany. The striking side summit of the Fichtelberg at 1205 m is called the small Fichtelberg or Fichtelberg. About 4 km
away on the Czech side lies the Keilberg. Around the Fichtelberg are many spring wells and raised bogs, among other things springs there the Zschopau. At the summit of the Fichtelberghaus stands with lookout tower, weather station and terminus of the Fichtelberg suspension railway. Incidentally, the Fichtelberg received its name from its natural spruce forest stand.
Etwa 4km entfernt auf der tschechischen Seite liegt der Keilberg oder Klinovec. Rund um den Fichtelberg liegen viele Quellmulden und Hochmoore, unter anderem entspringen hier die Zschopau und die Sehma. Auf dem Gipfel des steht das Fichtelberghaus mit Aussichtsturm, Wetterwarte und Endstation der Fichtelberg-Schwebebahn. Den Namen erhielt der Fichtelberg übrigens durch seinen natürlichen Fichtelwaldbestandes.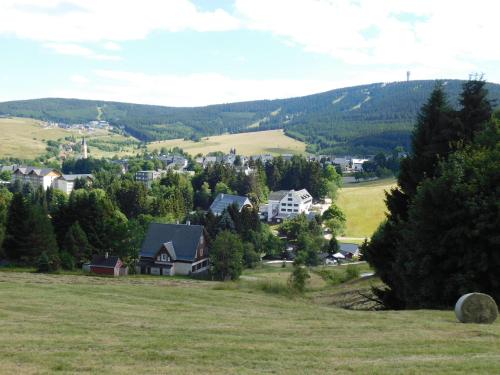 Main facts:
Height: 1214.79 m nm
Location : Ore Mountains, Saxony, Germany
Mountains: Ore Mountains
Rock: Muskovite schist
Special features: highest mountain in the German part of the Erzgebirge and in Saxony,
Observation tower, weather station with observatory, ski area
Keilberg / Klínovec 1.244 m
The Klínovec to German Keilberg was formerly called Sonnenwirbel and is the highest elevation of the German and Czech Ore Mountains. South of the wedge mountain lies the former royal-bohemian mountain town Jáchymov (St. Joachimsthal). The first mention of the mining region was recorded in 1562. From the lookout tower you have a wonderful view over the whole
Erzgebirge and vast parts of Saxony and Bohemia. In perfect weather conditions, the view extends even to the Lusatian Mountains, the Jeschke Mountains, to the 200 km distant Schneekoppe in the Giant Mountains, the Bohemian Uplands, to Bílá hora near Prague, to Doupovské hory, the Oberpfälzer Wald, the Kaiserwald and the Fichtelgebirge.
Main facts:
Height: 1243.7 m nm
Location: Karlovy Vary region, Czech Republic
Mountains: Ore Mountains
Rock: mica schist
Special features: highest mountain in the Erzgebirge, Keilberg tower, TV tower, ski area